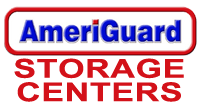 Self Storage Facility Serving:

Grand Blanc, Burton, Davison Swartz Creek, West Flint Area, Fenton, Holly.

On-site Manager, Fenced, Lighted, Computerized Gate.

For more information about Ameriguard Storage Centers, please visit www.ameriguard.net
AMERIGUARD STORAGE AUCTION NOTICES
This is a closed bid auction; the results will be announced right after all bids are turned in, and the moneys are then collected.

Successful bidders are required to remove all goods from the unit.

(AmeriGuard's waste container not to be used for unwanted items)

The unit must be cleaned after winning the bid and ready to rent.

Successful bidders agree to return to "AmeriGuard Storage Centers" all personal papers and such, if found in the units, no later than (1) one week from time of possession, or be responsible to send these items themselves to their owner.